---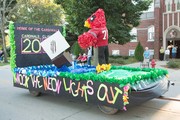 Please Click the Image to View the Slideshow
---
Homecoming Highlights - Mr. Heinz
Homecoming 2016 Neon Nights!
"Forreston High School once again celebrated the week of Homecoming in great fashion. This year's theme of Neon Nights allowed our Cardinal Pride to shine brightly throughout the whole week. Dress up days for the week included Pajama Day, Class Color Day, Whacky Wednesday, Neon Day, and Cardinal Spirit Day. Students and Staff participated in many activities and games throughout the week making lasting memories each and every day. The Senior Class once again proved to be too much as they edged out the Junior Class for School Champions for the Week. This was well on display during the championship volleyball match between the Seniors and Juniors. Not to be outdone by the upperclassmen the Sophomores proved to the whole school that their Powder Puff football team is definitely one to be reckoned with as they won the championship beating the Freshmen convincingly. FHS was even visited by a small herd of T-Rexes on Thursday!
Congratulations to the 2016 Homecoming Attendants:
Freshmen- Julianna Beltran and Jacob Dye
Sophomores- Kayla Peck and Dalton Becker
Juniors- Tylor Behrends and Gavin Fuchs
Seniors- Keleigh Kloepping, Joey Fiorello, Emily Langill and Brittan DeVries
Queen- Amanda Anderson
King- Bryan Edler
Thank you to all of our students, staff, parents, and community for making Homecoming 2016 a huge success and a week filled with many, many Cardinal Memories."
Travis J. Heinz
Principal