---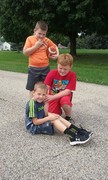 (Click Image for Slideshow) Owen and Blayton are busy helping their friend, Lucas.
---
Classroom Spotlight for Week of September 26th - Mrs. Edler, 1st Grade, GVGS
This month, the first graders in Mrs. Edler's class have enjoyed many stories by well-known author and illustrator, Eric Carle. The first Eric Carle story read aloud was The Very Hungry Caterpillar. The students compared the diet of the story's caterpillar to the diet of the seven monarch caterpillars Mrs. Edler brought to school. Over several weeks, the children watched them munch milkweed leaves and grow in size. The highlight of our study was the observation of a caterpillar creating and wiggling into its chrysalis. It was amazing! The students also learned how to identify male and female butterflies by special markings on their beautiful wings.
The book, The Very Busy Spider, inspired the children to reflect on how busy they have been learning in first grade. Using brightly painted paper, the students created spiders similar to Eric Carle's illustrations to compliment their "very busy first grader" writing project.