---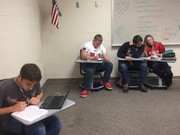 Please Click on Image to View Slideshow Freshmen students diligently work on short story assignments
---
Classroom Spotlight for Week of October 11th - Mrs. Magarity, English FHS
As fall progresses, students in all classes are wrapping up their first couple of units in English class.
English 1 students have been reading short stories and working on strategies for navigating their way through difficult reading in all subject areas. These freshmen have now started a novel titled Tuesdays with Morrie by Mitch Albom.
English 3 students recently finished a narrative writing unit and created some impressive short stories. They are about to begin reading John Steinbeck's Of Mice and Men.
In College Prep Writing and English 4, both senior courses, students have been honing their writing skills in the last few weeks. College Prep Writing students have been working on expository essays, while English 4 students just completed a unit related to professional writing.
We are off to a great start, and I look forward to the rest of the school year!