---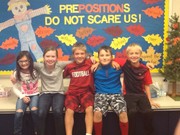 Please Click the Image to View the Slideshow Ayla, Ava, Evan, Daniel, and Deigon Having fun learning about the use of prepositions. They no longer "scare us"!
---
Classroom Spotlight for Week of October 11th - Mr. Genandt, 4th Grade
The 4th graders began the year with an adventure into reading. Our classroom looked like a forest filled with reading opportunities. Trees grew forth to encourage the students to "Grow Higher Level Reading Skills". We focused much of our reading on the national parks found here in America. We discovered ways to locate explicit details when presented by an author, and we took it one step further by making inferences based on what we read. We practiced using text features such as maps and diagrams to enhance our reading comprehension. We traveled to the national parks in our southwest region and learned so much about the desert environment. We also read the book "A River Ran Wild", which reminded us of our part in keeping our earth healthy. We are now switching to reading literature stories where our characters find themselves in natural surroundings and noting the impact nature can have on us. The students have discovered the joy in reading and writing about our beautiful natural world. Please keep your 4th grader reading at home to keep the success going.