---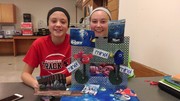 Please Click on Image to View Slideshow Alivia Chamberlin and Alexia Derrer showing their Finding Dory pull toy.
---
Classroom Spotlight for Week of October 17th - Mr. Wagner. FJSHS Science
Mr. Wagner's 7th hour Earth Science class is just finishing up the new Automation and Robotics class. The students have been extremely busy the last nine weeks learning about Engineering and Engineering Careers. The students have been engaged in one activity after another this quarter that has challenged them to design and build. Students in Automation and Robotics do not take traditional pencil and paper tests or quizzes, but instead they are graded by what they design and build. Mr. Wagner's students use the Design Process that they learned about in the first week of class to guide them as they solve unique problems. Early in the quarter students designed a change in the school lockers that would help them organize their school supplies, and personal belongings. After designing the new locker the students built a prototype that fit inside their lockers to test out their designs. Students also learned about mechanical mechanisms that are used to cause increased, decreased, or constant speed and torque. Each student built the following mechanical mechanisms - simple gear train, simple gear train with idler, bevel gear assembly, worm and wheel, leadscrew, rack and pinion, universal joint, chain drive, belt drive, crank and slider, and crank and follower. Students used their knowledge of these mechanical mechanisms to design and build a pull toy with moving parts, and to later build robots. So far, the students have been really motivated to complete their projects. All of the students this first quarter worked very hard in class and asked for passes almost everyday to go to the lab to work on the projects. Overall, Mr. Wagner believes the Automation and Robotics class is a positive step for the students and hopefully some of the students will become future Engineers.