---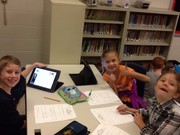 Please Click the Image to View a Slideshow Students excited about dinosaurs!
---
Classroom Spotlight for Week of October 24th - Mr. Groom, 3rd Grade
Mr. Groom's class has been "Rockin n' Rollin" this year. Currently the rocks that are rolling are from prehistoric times. The 3rd graders have been working on a research project about dinosaurs. Each pair of students selected a species of dinosaur to practice their research skills, reading for information in text, and using search tools to find information. The students did a phenomenal job with the project and were able to share their Triassic/Jurassic/Cretaceous Knowledge with the rest of the researchers. The students thought it was great to get to teach Mr. Groom some fun facts about dinosaurs too!