---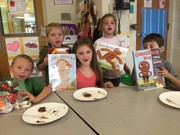 Please Click on the Image to View the Slideshow
---
Classroom Spotlight for Week of October 31st - Mrs.Guist, Kindergarten
Kindergarten Kapers

Locker cubbies have been found, routines have been established, friendships are forming. Kindergarten is in full swing now!! We are very confident in our abilities to take care of our supplies & follow a multiple step direction!! Just look at what has kept us busy over the month.....
September was busy with the study & celebration of apples & their growth cycle. We participated in stories, fingerplays & sequencing of apple growth. In addition, we created several literacy projects that had us reviewing letter sounds in the initial & ending positions of works! The culmination of the unit was the annual Johnny Appleseed Day where the life of John Chapman was explored & the class participated in measuring with apples, floating apples to determine buoyancy & graphing the favorite way to eat an apple! (Dipped in chocolate or caramel?)
Other activities for the first full month of school were exploring numbers 0-10 by learning to "fill in a tens frame" & comparing quantities of number sets! Next came the introduction of those "tricky teen" numbers 11-19. We are currently learning a "teen number rap" to help us identify the numbers!
As October closes out, our thoughts are turning towards Halloween & the class parties!! Plans are underway for a spooky, haunted scavenger hunt where we practice identifying numbers & letters!!! BOO!

As Always, We Are Laughing & Learning In The Land of K!
Mrs. Guist & the K-People