---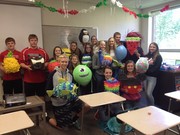 Please Click the Image to View the Slideshow
---
Classroom Spotlight for Week of November 9th - Mrs. Forster, FHS Spanish
A major holiday celebrated in Mexico, the United States and many other Spanish-speaking countries is Día de los muertos or Day of the Dead. Celebrated on November 1st and 2nd this holiday is not Mexican Halloween as so many suspect but rather a time for families to honor and remember their deceased relatives. Spanish students learned about the history and meaning of this holiday. We crafted masks, flowers, puppets, candles, and as always, Pan de muertos (bread of the dead). This year did not disappoint as the smell of the bread consumed our end of the building at our traditional bread tasting.
Spanish students are looking forward to some great projects next semester. Spanish 1 students will picked a country and will begin gathering information for a project to be presented to the class around spring break. Each student will be asked to create a gimmick to get the class to vote for their country. They can teach us a game, dance, song, do a skit or the usual favorite; fix us a traditional food. Spanish 2 will create a storybook to be shared with young children. Spanish 3 will dive into some traditional Spanish literature and Spanish 4 will have the opportunity to explore another language of their choice.
As Cinco de mayo (The Fifth of May) approaches, the Spanish classroom will be filled with piñatas made by Spanish 2 students. Cinco de mayo is heavily celebrated in both the U.S. and Mexico. This date commemorates the battle of Puebla when the Mexicans fought off the invading French army. We will trace the history of this Mexican tradition and each class will have the opportunity to fill and break a piñata.