---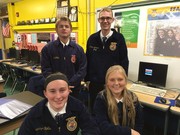 Click Here to View the Slideshow 2ns Place Ag Sales
---
Classroom Spotlight for Week of November 14th - Mr. Nelson, Agriculture
Forreston FFA Has Busy School Year
The Forreston FFA Chapter has had a typically busy school year so far. Members have enjoyed a variety of Career Development Events (CDE) and activities. We started off September with the annual Test Plot Dinner at the Suttman farm east of Forreston. Students and alumni members were able to discuss the performance of various test plot varieties of corn. We were well represented in Homecoming activities with our Donuts and Cider sale and a float in the parade. We finished September by attending the Section 1 Land Use CDE at Pecatonica where we placed 4th.
Our chapter took 2nd by 1 point at the Section 1 Meats CDE at Seward on October 15. Our top scorers were Aaron Wubbena, Michael Wubbena, and Sheyania Hughes. On October 19, 8 members of our chapter headed to Indianapolis for the National FFA Convention. Attendees were Ross Behrends, Sheyania Hughes, Michael Wubbena, Aaron Wubbena, Danielle Hagemann, Brooklynn Hollis, Jacob Green, and Hailey Kruse. Travelling with Section 1, we visited the Indianapolis Motor Speedway, Fair Oaks Dairy, and the Indiana Convention Center. Students attended leadership sessions, workshops, and convention sessions. We ended October by finishing 4th in the Section 1 Dairy Products CDE at Le-Win.
Things didn't slow down as November began for our chapter. On November 4, 6 officers, along with Mr. & Mrs. Nelson, headed for a leadership retreat at the Wilderness Resort in Wisconsin Dells. While usually held before school starts, this meeting time helped chapter officers plan the rest of the year for the Forreston FFA. On Nov. 9, our Ag Sales CDE team #1 placed tied for 1st place at the Section 1 CDE, but lost on a tie-breaker. Team members were Jackson Van Brocklin, Sheyania Hughes, Brooklynn Hollis, and Ross Behrends. Team #2 members were Michael Wubbena, Jacob Green, Hailey Kruse, and Emily Homman. The Section 1 Greenhand Quiz Bowl was also held at Stockton that same night. Forreston had 2 teams attending. Members included Megan Hagemann, Daniel Hanson, Zach Cederholm, Kyla Benson, Lauren Melton, Brittni Hollis, Alexus Houston, Jakob Boomgarden, Olivia Dillavou, and Hannah Burgett. November closes with a visit from the Section 1 officers and State FFA president J.C. Campbell, Leadership Training School at West Carroll, and the Section 1 Agronomy CDE at Eastland on November 30.