---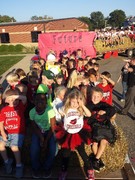 Please Click the Image to View the Slideshow
---
Classroom Spotlight for Week of November 28th - Mrs. Ingram, Kindergarten
Kindergarten has been very busy this year! We have been learning many things. We are excited to be CARDINALS especially since we can be a part of a championship school! Congratulations to our football reading buddies! We were very excited to be a part of the homecoming parade this year.
We have had some fun visitors this year, including our football reading buddies and Ms. Melinda who taught us about the life cycle of an apple, a pumpkin and facts about a turkey.
In math we have learned about our numbers from 0 to 20. Did you know that teen numbers are made of one group of 10 and some extras? Also, we learned how the indians used to plant their corn in good soil, and then they would fertilize it with dead fish they caught in the streams.
We have been practicing for our Christmas Program! Hope to see you there.