---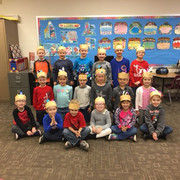 Please Click on the Image to View the Slideshow
---
Classroom Spotlight for Week of December 5th - Mrs. Joy, 1st Grade
The first grade classes have been very busy this fall. The week before Thanksgiving, we were reading about the Little Red Hen and how her friends would not help her with growing her wheat and making bread. We read a different version of the Little Red Hen entitled "The Little Red Hen Makes a Pizza" retold by Philemon Sturges. Because of this being so close to our Thanksgiving feast day, we had each student make their own personal pizza for part of our Thanksgiving feast. The children brought in the ingredients for the pizzas as well as other food items that six year olds think make a great feast. Not quite the same menu as the Pilgrims and Native Americans that first Thanksgiving, but we enjoyed it just as much!
Last week was the Christmas Concert which had a Polar Express theme. Mrs. Crase and Mrs. Bolen worked very hard to get us ready for the concert. We were excited to get to wear our pajamas to the concert. We think that wearing our pajamas to school is one of the best things ever!
We will be working hard the next few weeks, trying to concentrate and finish strong before our Christmas Break. Please enjoy the following pictures of our classes during the feast and Christmas Concert. Also included are pictures from Mrs. Joy's class enjoying time reading together in small groups.​​​​​​​​​​​​​​​​​​​​​​