---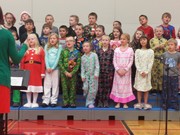 Click the Image to View the Slideshow Second graders singing at the Christmas Concert.
---
Classroom Spotlight for Week of December 12th - Ms. Herkert, 2nd Grade
Happy Holidays from second grade! We have been doing a great job so far of following the rule to BE AWESOME! Second grade enjoys working together in class, participating in the fun holiday activities- such as our Thanksgiving Feast and Christmas Play-, and making projects with Ms. Melinda relating to what we are learning about.
We started off our holiday spirit by writing letters to Santa. In our letters we worked on thinking about others, not only ourselves. We started out by asking Santa a few questions and telling him what we like about him and Christmas. Then, we asked Santa to bring our families gifts they would enjoy. We finished our letters with telling Santa what we wanted for Christmas. The letters will be in the newspaper for everyone to read.
We are looking forward to our Christmas play on Friday the 16th. Each student has been learning their lines and practicing saying them without a script. We are going to do a wonderful job spreading Christmas cheer as we perform for the school and our parents.
We hope you have a Merry Christmas and Happy New Year!

Ms. Herkert's 2nd Grade Class

P.S. Please enjoy looking through some pictures of our year so far!