---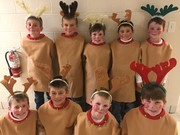 Please Click the Image to View the Slideshow Our 2nd grade reindeer from our Grand Christmas play!
---
Classroom Spotlight for Week of January 9th - Mrs. Meyer, 2nd Grade
Happy New Year from Mrs. Meyer's 2nd grade class!

This school year our second grade class has been full of energy as we work hard to follow the cardinal code and continue to love learning. We concluded our second quarter with lots of exciting things such as learning and reading about folktales, writing Santa letters, performing A Grand Christmas play, and enjoying our wonderful Christmas party. There were so many great things happening in our classroom at the end of last quarter that we were eager to start the new year with even more enthusiasm.
We started off our year by writing winter haiku poems. The students quickly discovered that writing haiku poems was a little different than actual journal writing. After figuring out what syllables are and how to use them, they came up with some great winter topics to write about. In addition to the haiku poems, the students look forward to learning about super storms and weather in the upcoming weeks. Throughout our math lessons, the students are happy that place value has finally collided with the standard algorithm that they enjoy using to solve their equations. We are excited to see what wonderful things the rest of the year has in store!
Mrs. Meyer's 2nd Grade Class