---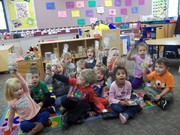 Please Click the Image to View the Slideshow
---
Classroom Spotlight for Week of January 16th - Mrs. Lehman & Miss Rinehart, P.A.S.S. Preschool, GVGS
Classroom Spotlight - Mrs. Lehman & Miss Rinehart, P.A.S.S. Preschool

We're half-way through the school year and a lot has been learned. We know how to open our lockers and work the paper towel and soap dispensers. Most of us can open our own carton of milk and zip our coats. Huge milestones for 3, 4 & 5 year olds. We continue to identify numbers, count out objects, identify letters of the alphabet and write our names. Students have developed close friendships with their classmates.
During the past few weeks we have been studying about different types of balls, their characteristics and how we use them. We know which ball goes with which game or activity. We can sort them by a variety of characteristics. One of our favorite activities involves making our own ramps and having races to see which ball rolls the farthest and measure the distance with yarn. We have even had an indoor "snowball fight" to help improve our letter identification skills.

We look forward to the last half of the year as we continue to grow and learn.