---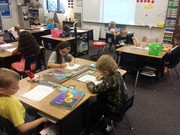 Please Click on the Image to View the Slideshow Working in the classroom
---
Classroom Spotlight for Week of January 30th - Mrs. Michael, 2nd Grade
Hello from Mrs. Michael's Second Grade classroom!
We can't believe that we are already half-way through the school year!! Already 100 days and counting!! Time sure flies when you are having so much fun "getting your learn on" as a second grader!! Who knew learning could keep us so busy and be so much fun!! Highlights from our first semester include being Star Students, our monthly visits from Ms. Melinda, our Halloween and Christmas parties, our first and second quarter Cardinal Code assemblies/No Late Assignment parties, the Grand Christmas play and Christmas concert, having a high school helper, and ESPECIALLY - ALL the fun learning that happens each and every day in math, reading, writing, grammar, spelling, social studies and science.
Second semester already has us busy learning to add and subtract multi-digit numbers, finding main ideas and details in text while reading about wild weather and firefighting, practicing new spelling patterns, having compound word snowball fights, and writing Haiku poetry - just to name a FEW!! Some other things we are looking forward to include Valentine's Day, our Abraham Lincoln Patriotic Presentation, having Mystery Readers, learning about worms, making butter and bread with Ms. Melinda, our third and fourth quarter Cardinal Code and No Late Assignment parties, making bird projects, going to J&J's and, of course, our field trip coming up this Spring. Can't wait to see what 3rd grade will have us busy doing!!
Thanks for visiting!!
Be sure to check out the pictures of the highlights so far!

Mrs. Michael and second graders!!

P.S. Be sure to check out all the rest of our pictures on our web page on the FVV website!!