---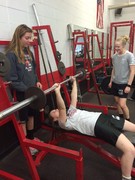 Please Click the Image to View the Slideshow
---
Classroom Spotlight for Week of January 20th - Mrs. Williams, FHS Physical Education
This week our PE program has begun our weightlifting unit. We will be spending three days a week for the next three weeks trying to improve our overall strength. The other two days will be spent participating in a fitness activity to work on our cardiovascular endurance.
It is important to incorporate strength training into our PE program for more than just our student athletes. All students will benefit from learning the lesson of how gaining muscle can boost your metabolism, prevent injury, increase your flexibility, and improve your overall self-esteem.
Each day we are in the weight room, the students have the option to complete our crossfit workout of the day, or they can personalize their own lifting plan. For their personalized plans, each student gets to set their own goals as to how they want to improve their overall strength.
All in all, I feel the students have been enjoying the time we are spending in our weight room. It has been a good introduction as way for them to maintain a healthy lifestyle throughout their lives.