---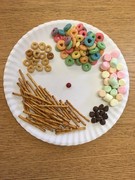 Mixtures and Solutions Lab: Proving that a mixture can be easily separated
---
Classroom Spotlight for Week of March 20th - Mrs. Nelson, 5th Grade
Learning Science with a Hands-On Approach

Science takes on a whole new meaning when you involve food. Whether it is learning about mixtures with cereal, M&M's, pretzel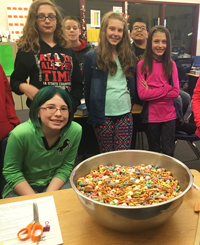 sticks, chocolate chips, and marshmallows or making Mrs. Nelson's Science Party Punch solution—food makes science fun.
In 5th grade science class, Mrs. Nelson's students have made animal cell models out of edible materials. Each group of students was given planning time to figure out what they would bring to class for the laboratory after learning about the parts of cells and their functions. Most groups brought sweet items like frosting, marshmallows, Twizzlers, doughnuts, pudding, Jello, and gummy worms. One group decided that they would go with a "s'mores theme", while other groups went for savory flavors.
Whatever the flavors or ingredients, everyone had fun building their cells. Before the students could eat, though, each group had to tell Mrs. Nelson what part of the cell each ingredient represented. Finally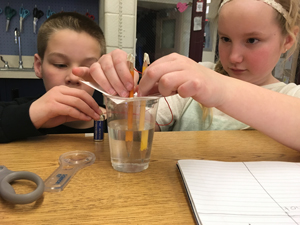 it was time to dig in with spoons and enjoy the colorful and creative science models.
Fifth grade students have also been learning about some of the approximately 100 elements that can be found on the periodic table. They have made locker decorations by spelling their names with element abbreviations, drawn atoms on the iPads, and created hallway atom mobiles using sequins for the protons, neutrons, and electrons. Fifth graders have also learned about molecules and their chemical formulas. The class split water molecules in a safe experiment using 9-volt batteries, pencils, and wires. This year's students seem to really enjoy learning about science.