---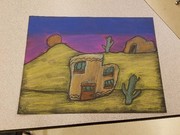 Please Click the Image to View the Slideshow 4th Grade Chalk Adobes
---
Classroom Spotlight for Week of February 20th - Mrs. Crase, Art/Music, FGS/GVGS
We have been up to many great things in music and art this year!
Our first, second and third graders are really learning a lot in music this year and having fun doing so! First grade has been working on world music (music from other countries) and the instruments that go along with it. They have also been working on long and short sounds, loud and soft (piano and forte) and being able to match pitch using our singing voice and not yelling! Second grade has been working really hard on learning the different types of notes and rests that we use in music and how long we hold each note for. We've even adopted a pet "music monster" named Otis who likes to eat the notes we feed him. Third grade is working on reading notes on the staff and differentiating the difference between bass and treble clef. All grade levels also did a fantastic job this year of putting on a wonderful Polar Express Christmas Concert!
In art class, we have been learning about and exploring with many different techniques and tools to create art! All grade levels have used or are getting ready to use clay this year! We've also been experimenting with chalk and oil pastel, which can get rather messy but is oh so fun to use!!! Other materials we've experimented with include tempera paint, cake tempera and liquid watercolor! We can't wait for you all to come out to the art show on May 4th to see all of the projects we've done this year in art class!!!