---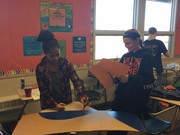 Please Click the Image to View the Slideshow A work in progress~Bryonna & McKenna working on their model of the church and Grandma Sands' house.
---
Classroom Spotlight for Week of February 20th - Mrs. Griseta, Language Arts, FJH

What are the story elements and how do they contribute to the development of plot? How does an author develop the narrator's point of view in a fictional story? How do individual sentences or chapters contribute to the development of theme, setting and plot in a fictional story? These are all essential questions discussed during the unit we recently completed in language arts. Ask your sixth grader to answer one of the above questions regarding the recent novel he/she just finished reading, "The Watsons Go to Birmingham-1963." This is a heartwarming novel about a loving family dealing with a delinquent teenager, Byron, and the challenges of racial discrimination during their visit to Grandma Sands in Birmingham. Throughout our unit, students practiced identifying character traits which described the main characters and examined ways in which the main characters changed over the course of the story, learned the story elements and how to identify them in the novel they read. In addition, students reinforced vocabulary skills by identifying and determining the meaning of new words, analyzed conflict that characters experienced throughout the novel, recognized important events in the text and made connections to the characters they could relate to.

To wrap up the unit, students either worked with a partner or on their own to complete a project they chose from multiple options: a model, 10 facts poster, collage, comic book, book commercial, or Momma's notebook. For this project, students collaborated with a partner (or worked alone), completed a rough sketch of their project, presented the idea to me, worked diligently, and created the final project during class. Those who chose the model option used either cardboard, construction paper, or clay and paint, markers, tape, staples, and multiple items to make their model complete. Students who chose a book commercial either created a Keynote with multiple pages advertising the book or worked with a partner to videotape their commercial. Students went above & beyond with this option and I was very impressed! Several students chose the collage option, also doing a fantastic job with some students bringing in lights to add to the finished product. Several completed "Momma's Notebook," using information from the book to make the notebook as accurate as possible. A job well done! Students seemed to be engaged and excited about completing the projects! After this, students practiced their presentation skills as they presented their projects to the class. The sixth grade classes did an outstanding job on their final projects. To end all, students watched the movie and presently completing a writing assignment which compares and contrasts the book and the movie.