---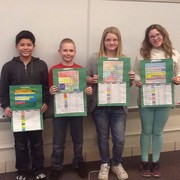 Please Click the Image to View the Slideshow Anthony, CJ, Paige, and Sydni show off their fraction garden projects.
---
Classroom Spotlight for Week of February 27th - Mrs. Kujat, 5th Grade
Our fifth graders are closer and closer to leaving the land of elementary school and traveling to the new waters of junior high. Before they leave, we have so much more math to learn! They have been hard at work building on their fraction knowledge. We have successfully finished the unit with adding and subtraction fractions with unlike denominators. Currently, we are working through multiplying fractions. Manipulatives and pictures are helping to grasp the concepts and understand why the math works. As the students finish up this final unit of fractions, they will be begin to work with measurement, area, volume, and much more. We have some fun activities planned for this spring. I have enjoyed getting to know these kids and spend time with them each day. It is so fun to see how much they grow in such a short time whether that be academically, socially, and/or physically. It has been a great year so far, and it has flown by. I'm sure the rest of the year will be no exception.