---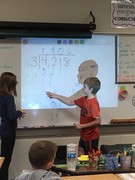 Please Click the Image to View the Slideshow Coehen and Ennen being student teachers during our division unit.
---
Classroom Spotlight for Week of March 6th - Mrs. Schiesher, 4th Grade, FGS
Mathematicians have been hard at work in 4th grade! Currently, students are learning about fractions. We have been working with drawings, and exploring fractions using models. Students have become quite fluent in creating equivalent fractions. Next up, students will be comparing, adding, subtracting, and multiplying fractions!
In addition to fractions, students have been enjoying Geometry Fridays! Last week, students were introduced to the different types of angles, and were able to create their own measuring tool for right angles.