---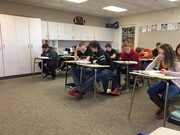 Please Click the Image to View the Slideshow Hunter Rogers, serving as Lord Montague, and Braedon Fyock, playing the role of Prince Escalus, worked together on their lines during a reading of Romeo and Juliet.
---
Classroom Spotlight for Week of February 13th - Mr. Janicke, Language Arts, FHS
Throughout the year, students in each of my English classes have worked very hard to improve not only their reading and writing abilities, but their analytical and critical thinking skills as well. Currently, each class is starting to progress in a brand-new unit.
English I students just finished a unit with informative essays and giving presentations. Now, they will be using the strategies they have adopted during the course of the year to make their way through Night by Elie Weisel, a personal memoir of a Holocaust survivor.
English II students recently completed a not-so-favoite unit with poetry. This transitions straight to our next lessons with Shakespeare's Romeo and Juliet, a play which I have been anxiously waiting to read with the sophomores.
At the beginning of the semester, Classical Literature students were given the choice of which text they wanted to attack first. They chose 1984 by George Orwell. Now, we will be reading Frankenstein by Mary Shelly.
In Journalism, we are still working day by day to create the best yearbook possible. Now that fall and winter are over, we are looking towards the spring to see what pages we can start working on next.
It has been a fun and exciting year, and I am immensely looking forward to the short couple of months we still have together.