---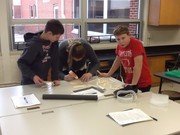 Please Click the Image to View the Slideshow. Dylan, Laci, and Carter building their foot orthosis.
---
Classroom Spotlight for Week of April 17th - Mrs. Daub, Science, FJH
What is STEM? This is a term that is seen a lot in the areas of math and science. STEM stands for Science, Technology, Engineering, and Math. Integrating all of these areas is a goal of the Next Generation Science Standards (NGSS). This year the 7th graders at Forreston Junior High School are participating in a true STEM experience! During 3rd quarter, the 7th graders were exposed to a new curriculum called Project Lead the Way (PLTW). The particular program that the 7th grade participated in is called Design and Modeling. This program uses the same Design Process that engineers use daily to solve problems. This process includes the following steps: Define a Problem, Generate Concepts, Develop a Solution, Construct and Test the Solution, Evaluate the Solution, and finally Present the Solution.

The beginning of the program gave the students an Instant Design Challenge! They had to work with a group of other students to create a foot orthosis; which is a device that assists cerebral palsy patients in walking, with out pointing their toes downward (a common problem with cerebral palsy). Their foot orthosis prototypes had to meet certain criteria; and because of this the students had to redo their prototypes several times. It was great to see the students work diligently to solve a problem, just like engineers!

After the foot orthosis project, the students learned how to sketch 3 dimensional objects; as well as sketch the front, top, and right views of the same object. They then took measurements of those objects in both U.S. Customary and Metric. They learned how to use a Dial Caliper which measures objects to the nearest thousandths. After mastering the skill of sketching on special graph paper, they then created 3 dimensional objects on a computer program called 123D Design.

Math was not only integrated through measuring, but also when the students calculated surface area and volume of objects. They also had to explain in detail how they made their calculations; which is part of Common Core. They did several other activities including statistical analysis, creating and taking apart puzzle pieces, as well as entering data in a computer program.

For the final project the students worked within groups to create a toy for a patient with cerebral palsy, that was not only educational, but would also help them carry out everyday activities and interact with their environment in a comfortable way. This toy would be used in therapy sessions with children who have physical, sensory, and cognitive challenges. The toy also had to meet certain criteria, which again required the students to go back and redo their designs. The groups had to sketch, measure, and create their toys in a specified amount of time; this time limit enabled them to experience what engineers experience.
PLTW has been such a great experience for Mrs. Daub's 7th grade students! Many positive comments were heard during the program. The students were engaged, learned how to work with others to solve a problem, and used engineering skills to solve that problem. It also exposed them to a variety of engineer careers.