---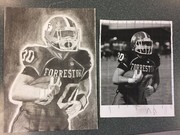 CLICK ON THE IMAGE TO VIEW THE SLIDESHOW Junior Bre Zipse's completed drawing and the preparation image she worked from.
---
Mrs. Russell-Brown - Classroom Spotlight
As the first quarter comes to a close, the art students are working hard finishing off different projects. The 6th grade art students have been studying the Elements of Art and learning how to critique artwork using the process describe, analyze, interpret and evaluate.
7th grade students have just finished learning about radial symmetry and studying the Mandala. After researching the Mandala, students completed their own version using their own design and color scheme. 8th graders have been studying the artist Robert Indiana who is known for his words, numbers and symbols in his artwork. They are working on creating paintings which reflect important words, numbers and symbols in their own lives.
Our high school art students are finishing up a drawing where they have learned to use a grid to create photorealistic drawings, based on the work of artist Chuck Close. Well done fine arts students and we look forward to seeing all these completed projects!