---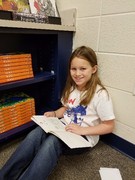 CLICK ON THE IMAGE TO VIEW THE SLIDESHOW
---
Mrs. Kaney - Classroom Spotlight
It's hard to believe that we're already half way through second quarter. The year has really been flying by. Mrs. Kaney's class is confident that the year is flying by because we're having so much fun in the classroom.
Mrs. Kaney's class has been diving deep into text evidence this year, for both non-fiction and fiction texts. If anyone were to walk into the classroom and ask a student to prove their answer, our amazing students can pinpoint the exact area in the text that told them their answer. Students are learning how to ask "thick" questions about their text and how to meet personal goals for reading. The third grade year is always a big leap from second grade in independence, and this year's group of students are becoming excellent independent readers. The best part of all of this is that they are finding their path with reading and enjoying the journey along the way!
Mrs. Kaney's class has also had a fantastic year in the world of Language Arts. Again, this year is a big leap for students in regards to independence, and it's been great to see students putting their ideas and evidence from reading into thoughtful written responses. We've covered so many parts of the written language this year including: nouns and verbs, title capitalization, verb tenses, the difference between irregular and regular plural nouns, the difference between irregular and regular verbs, and most importantly writing sentences that include both subjects and predicates.
Our classroom has become a family, and our students are growing into great young people of integrity. We're so proud of what we've learned so far this year, and we're excited for what the rest of the 2017-2018 year holds.