---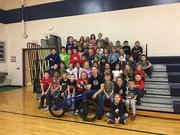 Please click on the image to view the slideshow
---
Mrs. Carlson - Classroom Spotlight
What an incredible year so far! In third grade math, we have been working on basic multiplication and division facts, properties, and word problems. We are now telling time, finding intervals of time, and working with number lines. We are measuring time, weight, and length. Keep working on memorization of those multiplication and division facts!
Most importantly, in third grade we are working on being the best people that we can be. We recently made our annual Cardinal Playoff Video for the football players. During that time, we talked about what it means to be a Forreston Cardinal. Here are a few ideas the third graders had:
Cardinals always do their best.
Cardinals are strong.
Cardinals learn from their mistakes.
Cardinals never quit.
Cardinals help each other.
Cardinals are unstoppable.
Cardinals are a team.
Cardinals can be trusted.
Cardinals are mighty.
Cardinals change the world.
As we reflect on our blessings this holiday season, we are thankful for our class, our school, our district, and our community. We are Cardinals!