---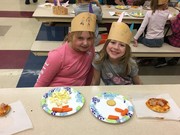 Please click the image to view the slideshow
---
Ms. Genandt - Classroom Spotlight
The first graders in Ms. Genandt's class have been waiting for the first snow of the season as we have been reading books about snowmen and the winter season. When the first measurable snow fell the second week of December the students were so excited to be able to watch it snow and to be able to play in it. The students enjoyed playing in the snow and building snowmen that they call Olaf from the movie Frozen.
At the end of November the first graders enjoyed their first grade feast. They learned about Pilgrims and what Pilgrim children liked to do. They were able to make some homemade pizzas and helped make the pumpkin pudding dessert. They enjoyed making their headdresses for the feast and snacking on delicious food.
The first graders are counting down the days to their 100th day of school and they can't believe how fast the school year is going. We are having so much fun in first grade and can't wait to see what else the 2017-2018 school year has in store for us! Please look at the pictures to see all the fun in the snow that we had and from our feast.