---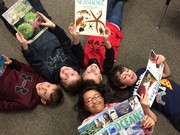 Please click on the image to view the slideshow.
---
Mr. Genandt - Classroom Spotlight
Here it is the middle of winter and the 4th grade Reading students are ready to go swimming in the warm ocean! Doesn't that sound like a perfect plan! Well, the only way we can make that happen is by diving into many passages of informational text dealing with the oceans. We have been learning many new facts concerning the coral reef ecosystem. We even "grew" our own coral reef!
We have written passages which compare and contrast hard coral and soft coral. We have recognized the problem of our coral reefs being destroyed and we have identified possible solutions to this problem. We have sequenced the life cycle of coral and have been busy strengthening our reading skills. Our next adventures will be traveling with whale pods and using our reading strategies to continue the success we have seen. Reading informational text is a very important skill and our reading adventures are helping us strengthen our skills.
As you can see from the images, our classroom is an active, exciting place to be. Our ocean unit is opening our eyes to the wonderful world we are a part of, and our reading skills are being challenged and advanced.
Please encourage your 4th grader to read every day. Daily practice is needed to keep our skills strong. Being successful with AR tests will also earn a trip to J&Js this spring. It's great to be rewarded for reading success.
Mr. Genandt