---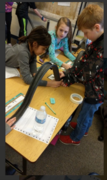 Please Click on the Image to View the Slideshow.
---
Mrs. Genandt - Classroom Spotlight
Fourth grade has been ENERGIZED in new year! We have been working on learning about all the different types of energy. We have had many fun, hands-on opportunities in this unit. We have learned all about mechanical, electrical, light, thermal, and sound energy. We have had such a fun time exploring energy, especially electricity! We were able to make closed circuits by testing different classroom objects. The students had to see if the object was a conductor or an insulator by closing the circuit and making their light bulb light up! It was so fun to see all of the light bulbs around the room! We also have had a great time learning about alternative forms of energy such as wind, solar, and hydro power. We made our own windmills to harness the wind energy from a fan. The fourth graders did a wonderful job diving into the construction for their windmills.
Potential and Kinetic energy has also been one of our favorite parts of this unit. We learned all about potential and kinetic energy and put our knowledge to the test when we constructed our own roller coasters! The students had to create a rollercoaster with three hills and one loop. Their task was to get their marble roller coaster car to make it through the entire track. I was so impressed with the creativity of these coasters! Not to mention the awesome names! We are going to keep working hard as we continue on the wonderful ride that is fourth grade!