---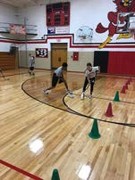 Please Click Here to View the Next Image
---
Mr. Schurr - Classroom Spotlight
Forreston Junior High Students Learning
and Applying Skills in PE Classes

Forreston Junior High students have been learning about skills that are applicable for
living an everyday health lifestyle. Health fitness components and skill fitness
components are essential to maintain a healthy body along with being able to move
efficiently. The skills are applied through various movements of sports and everyday life
tasks. Students are able to self reflect and apply the subject matter effectively.
Various sports and activities where the essential components have been used in PE
class are soccer, tchoukball, paddleball and floor hockey. Healthy lifestyle can be a fun
lifestyle and students are seeing results through play. Fitness testing is also a
requirement by the state and Forreston students are putting their best effort forward to
achieve above standards results. Staying active and healthy in PE class and life.