---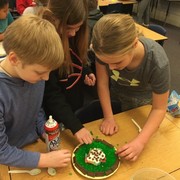 Fifth grade science students are putting the finishing touches on their creation by adding a cell membrane.
---
Mrs. Nelson – Classroom Spotlight
What do food, science labs, and cells have in common? Why the "Edible Cell Lab" of course! Recently, the 76 students in Mrs. Nelson's fifth grade class science classes showed off their knowledge and creativity by building a simple animal cell that was completely edible. In preparation for this lab, students learned the parts and functions of the cell membrane, cytoplasm, nuclear membrane, nucleus, genes, and chromosomes. The students were then given time in class to meet with their lab partners to plan. Each student had to write down what they were responsible for on a mini lab sheet. This had to be taken home to make sure it was okay to bring their food item to school. A big thank you goes out to all fifth grade parents who were very supportive and made sure that their budding scientists had all the ingredients for this lab.
The edible cells were built during science class. The sounds of plopping gelatin, pudding, frosting, strawberry jam, canned whipped cream, and excited young scientists discussing their creations filled the classroom. Before the cells could be eaten, each group had to tell Mrs. Nelson which food item represented a particular part of the cell. After the explanation and a couple of photos, the spoons used for building were now used for eating. All of the lab groups did a great job on clean-up and participated in a fun-filled learning activity that also tasted great. You can see photos of our edible cells below.