---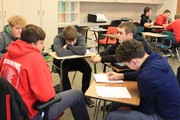 Please click the image to view the slideshow. A group of sophomores collaborate together as they analyze a poem written by well-known powt Maya Angelou.
---
Mr. Janicke - Classroom Spotlight
Classroom Spotlight:
English has been a very exciting class to be in this second semester. In English 1, freshmen have developed skills necessary to not only detect biases in the news and other medias, but to also decide whether they trust a certain source. Currently, they are learning the proper techniques of writing an informational essay, which will lead into our next literature unit.
In English 2, sophomores have truly discovered the power of poetry. Utilizing a new approach, we have dived into modern pieces of poetry in order to connect and discuss issues and situations in society today. In addition to this, this group of sophomores should not be underestimated when it comes to writing their own free-verse poetry. While they have been opening up about their life, they continue to learn an abundance of new life lessons from their peers and classmates.
Similar to the sophomores with poetry, our senior scholars have just finished up reading and exploring George Orwell's classic 1984. This intriguing novel was able to ignite many class-wide discussions that dealt with topics ranging from government issues to psychology to relationships, etc.
Journalism students are still plugging away at the yearbook as we look forward to our spring section which is highlighted with spring athletics and Prom. Our Cardinal News team has come along way as they are regularly producing weekly update editions for the entire junior high and high school.