---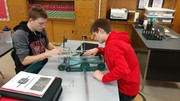 Please click on the image to view the slideshow. Joseph Snyder and Dylan Greenfield putting the final touches to their pull toy.
---
Mr. Wagner - Classroom Spotlight
Mr. Wagner's Robotics and Automation class has been busy this 3rd quarter studying about engineering. The class is designed to introduce the students to engineering and is pretty much a hands on type of class. The students have built simple gear trains, gear trains with idler, chain drives, cam and follower, crank and slider, bevel gears, worm and wheel, universal joints, lead screws, rack and pinion, and belt drives. The students are currently building a pull toy using all the information they learned earlier in the quarter. The students final project this quarter will be building a race car that will be automated with a computer program. When asked why they like the class, Jacob Fiorello, an eighth grader in the class said " we learn a lot of things about mechanical engineering and you learn to work together with your lab partner and it's been a great experience". Julia Wells another eight grader also commented on the class saying "Because its different from other classes, we get to work together, and in STEM we have a lot more freedom without paper and pencil. I also enjoy building all the different mechanisms and projects". Overall, the students are having a great time in Mr. Wagner's STEM class.