---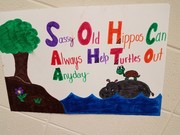 Please click on the image to view the slideshow.
---
Mr. Hanley - Classroom Spotlight
In both geometry and geometry/trig, we are working with right triangles. We are using the Pythagorean theorem and right triangle trigonometry. The saying SOH-CAH-TOA is very important to help students understand how to set up the different trigonometry ratios, so students spent a few days coming up with their own mnemonic device to help remember SOH-CAH-TOA and then created a poster for it. We are then using it to help solve for missing sides and angles in right triangles and applying it to word problems and real life situations.
In Pre-Calculus, we are beginning our study of the unit circle in degrees and radians. We are also working with right triangles and how they would be used in some complicated word problems and real life situations. In a few weeks, we will begin to prepare for the SAT and ACT tests.