---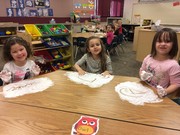 Please click here to view the slideshow.
---
Mrs. Hill - Classroom Spotlight
Our classroom theme for February is In the City, In the Country. We have been figuring out what is similar and different between the two. Did you know that the city and country are both noisy? Yeppers! The city has cars, busses, honking horns, people shouting, and doors opening and closing, The country is noisy because of the cows mooing, tractors, farmers, and other farm animals.
We are also working on becoming more independent and solving our own problems. Getting ready to go outside and putting on our coats, snow gear, and backpacks is a skill we do daily. If the arms in the coat are inside out, can you put it on? As Pete the Cat would say "goodness no". The students reach in the arm hole, grab, and pull. Ta Da! They can now put on their coat. The students just solved their own problem. Now to move on and tackle the skill of zipping up our coats!