---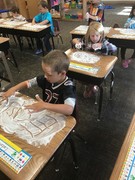 Click on the image to view the slideshow.
---
Mrs. Ingram - Classroom Spotlight
Kindergarten has been a whirl wind this year! We have enjoyed so many different experiences and we continue to look forward to many more.
We have been able to take advantage of several activities in which we dress up (one of my favorite things to do)! Celebrating homecoming week really gets the students excited to be part of an amazing school district, and being part of the parade is great fun as well! Halloween allows us to become anything we want, from a princesse to a super hero or even a scuba diver. This is also our first opportunity to participate in a class party! Kindergarten is always ready for a pajama day, and students were able to experience another PJ day when we finish our unit on the Polar Express. Comparing and contrasting books and movies can be a lot of fun! Of course the 100th day of school wouldn't be complete without us dressing the part. Many students were very excited to complete 100 minutes of centers, 100 exercises, and read about Ms. Bindergarten's 100th day of Kindergarten.
Coming up this spring, the students will celebrate Dr. Seuss's birthday with a variety of dress up days during the week. We will spend time with moms and dads by eating donuts and having "tea", and we will go on two adventures to the Discovery Center in Rockford and J&J. This year has been exciting and new! What a great beginning as FORRESTON CARDINALS! #CARDINALSTRONG