---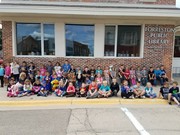 Please click the image to view the slideshow. Second grade field trip to the Forreston Library
---
Mrs. Herbig - Classroom Spotlight
Wow! This year has been flying by. Mrs. Herbig's second grade class has been having an awesome year and can't believe we are almost third graders!
Our year has been filled with growing together as a class, as well as enjoying guest speakers to go along with our reading units. We have had Ms. Melinda come into our classroom monthly to do fun activities about agriculture, Mr. Timmer talked to us about fighting fires and showed us his fire-fighting tools, we visited the Forreston Library and enjoyed listening to a fun read-aloud, and Mrs. Perry taught us about sign-language and showed us how to sign a book about colors.
We have fun learning about grammar and practicing the skills through playing games in groups and with partners.
In math, we have been learning how to solve addition and subtraction problems up to 1,000 using different strategies. We enjoy practicing our math facts, doing math centers, and reviewing in fun ways- our favorite has been using Kahoot on our iPads.
Second grade became actors and actresses in our Grand Christmas play performed for the school and our parents. Everyone did a great job getting into the Christmas spirit and spreading Christmas magic!
We put our performing skills to the test again in February after learning about Abraham Lincoln. Second grade put on an informative performance that taught about President Lincoln's life through stories and songs.
We have been working hard this year, and have been enjoying learning together as friends and classmates. We can't wait to see what fun activities the rest of the year will bring!