---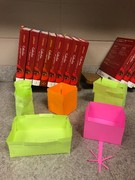 Please Click the Image to View the Slideshow Our first boxes (no restraints).
---
Mrs. Gronewold - Classroom Spotlight
Mrs. Gronewold's calculus class spent the month of March working on Optimization using derivatives. Optimization is finding the minimum and/or maximum values of any given function. Students were able to use a variety of materials to create objects of maximum volume such as using a single sheet of paper to make a box of maximum volume and making ice cream cones (of maximum volume) from the circle produced by a waffle maker.
In addition to hands-on volume problems, students also explored hypothetical situations such as finding the minimum cost of installing cable over land and across a river.
In order to find the maximum volumes students had to first create equations that represented the box (fairly easy) and the cone (not so much) given particular conditions. For the box they needed to find the size of the square that needed to be cut from each corner. For the cone they needed to find the angle of a wedge to cut from the circle. Once equations were found students needed to find the critical values for the function using differentiation and prove that the values they found were actually maximum values.
Once students had finished their calculations they made their own ice cream cones which were able to hold the maximum amount of ice cream and celebrated their hard work with an ice cream cone sundae party!